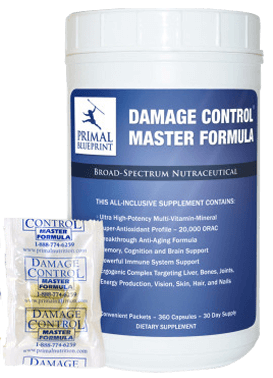 Primal Nutrition

High-Antioxidant Vitamin-Mineral-Phytonutrient Multi-Vitamin
You may be asking yourself what 'damage control' really means. To sum it up, our modern lives are full of stress, nutritionally-deficient, over-processed foods, and not enough time to attend to our fitness and health.
Damage Control Master Formula is a supplement that helps you fight all these negatives and fill in nutritional gaps. This comprehensive formula includes everything needed to ensure you are getting what your body really craves.
A multi-vitamin formula with E, C, and B vitamins works with essential minerals to support immunity, nervous system health, and nearly every part of your body. High-quality CoQ10 and other antioxidants rid your body of toxins and help support your heart and lungs. This formula helps your entire body work in-sync, aiding your bones, joints, eyes, and stress-response.
Since this product is developed by Primal Blueprint, it is designed to complement Primal Blueprint plans and only contains the purest of ingredients. Since it contains everything you need, you will save money and hassle by choosing this one product. Ditch your shelf full of supplements and choose this research-backed formula to easily enjoy optimal health.
Looking for a less expensive alternative? Check out Primal Damage Control.This formula is designed to mimic the more expensive Damage Control Master Formula and omits the most expensive ingredients while still offering exceptional results.
Learn More